Third arrest made after Anuj Bidve shot dead in Salford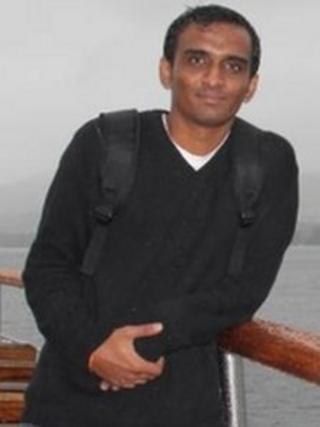 A third person has been arrested in connection with the shooting of a 23-year-old student from India in an "unprovoked attack" in Salford.
The latest arrest, a man held on suspicion of murder, came after two boys, aged 16 and 17, were held over the killing of Anuj Bidve on Monday.
Mr Bidve was with nine students, all Indians, when they were approached by two men in Ordsall Lane.
He was shot at close range after a "very short" conversation.
A post-mortem examination has revealed Mr Bidve died as a result of "gun trauma" to the head.
'Awful murder'
Police have not confirmed what was said during the short conversation between the killer and his victim.
Detectives are continuing to make house-to-house inquiries and are reviewing CCTV footage.
"I have said previously I believe the answers as to who committed this awful murder lie in the community, and we have had an excellent response from people who share our abhorrence at what happened and want to see the killers brought to justice," said Ch Supt Kevin Mulligan.
"There is obviously speculation about why this young man was killed but at this stage it would be wrong to rule anything out or comment on that speculation while the investigation is in its infancy."
In a statement issued through police, his family said: "Anuj was a loving son, a super caring brother and first and forever friend for many.
"He valued his relationships and put them over anything else. He was the first person you could call when in trouble. He enjoyed his time and life and is an inspiration for us to live life to its fullest.
"His passing will not only leave a void in our lives, but in the hearts of all those who knew him."
Mr Bidve's brother-in-law Rakesh Sonawane, 30, speaking from the family's home town of Pune in Maharashtra, said the family had "lost faith in everything".
Mr Bidve, who had arrived in the UK in September after completing an electronics degree at Pune University, had planned to return to India "to serve his nation" following his postgraduate studies in Lancaster.
'Lost faith'
The Acting Vice Chancellor of Lancaster University, Prof Robert McKinley, said: "Anuj had only been with us for several months, but during that period of time he'd shown himself to be a truly outstanding student.
"And this makes all the more tragic his loss to the university community, at which we are deeply saddened."
A Facebook tribute page set up by fellow Lancaster student Sonakshi Saran said there were plans for a "peace march".
Mr Bidve's father, Subhash, has called on the UK government to speed up the process of returning Anuj's body to India.
'Deeply upset'
In a message on his son's Facebook wall, he wrote: "Please help in getting Anuj Bidve's dead body back to India.
"We appeal to all his friends in UK and India to help spread the word."
The family said it had tried to contact the Indian High Commission in London but the office was closed for Christmas.
Greater Manchester Police said a group of male and female students - who had been spending Christmas at a nearby hotel - made witness statements about his killing.
Lancaster University has confirmed Mr Bidve was a postgraduate student who was studying micro-electronics.
"Our thoughts are with his family at this time, and counselling and support has been organised for his fellow students who are deeply upset," it said.
Witnesses or anyone with information about the killing have been asked to contact police or Crimestoppers.