Salford family 'just passing time' in riot aftermath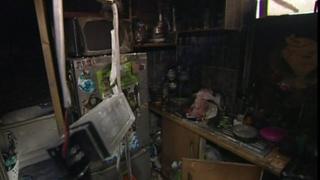 When Samina and her family fled rioting at Salford Precinct on Tuesday 9 August, she thought they would soon be back in their home.
However, when the rioters turned on her husband's business and their flat above it, the result was devastating.
The family lost almost everything, as looters attacked their internet cafe and set fire to the flat.
Samina said that despite what happened, she "didn't feel scared" as they left.
"I took a few essentials for the little one, thinking I'd come back in the morning.
"We did not think our business and home would be affected."
However, 20 minutes later a neighbour phoned her to say the rioters had broken into their property.
"Ten minutes later, she called and said everything was on fire," Samina said.
When she and her husband returned to the property, "everything was just black and everything was gone".
Since then, the ruined premises have been burgled twice and lead piping has been stolen.
'A small light'
Five months on, they are still feeling the effects of that night of riots on their day-to-day life.
They have been rehoused in Salford - in a flat decorated by offenders doing community service - and have received their first payment of a claim through the Riot Damages Act, but there is still much to do.
The family have no furniture, apart from a double and a single bed, and their business has not yet reopened.
Samina says the compensation is "a small light at the end of the tunnel", but that they all feel like they are "just passing time".
She is angry about what happened, particularly as she feels some of those rioting must have been aware of who they were attacking.
"Clearly, the people who went upstairs could have seen that there was a family and small children living in that property, yet they decided to torch it.
"And because of that, we're no longer able to live there, because there was structural damage to the building.
"It upsets me to think that the people on that night might have been customers we have served and maybe they did know us and they still chose to do this to us."
The family asked that their name not be used to protect their identity