Football shirts are big business for two ex-students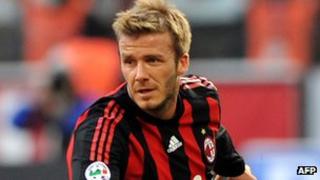 Five years ago Doug Bierton and Matt Dale sold their first football shirt online from their student flat.
Now they have a business with a £1.5m turnover.
The Manchester-based pair are getting orders from all over the world for their replica shirts originally sold in club shops as well as shirts actually worn by the game's big names.
"People have a memory of a shirt or someone who wore a shirt or someone that scored in a shirt, or have a memory of a memorable game," said Mr Dale.
"The best shirt we sold was one Brian Kidd wore for Manchester City which we sold for £1,200."
The pair, who both studied management degrees, were looking for work as they neared their graduation and hit on the idea of selling football tops and kits online.
"For two years we ran the business from a student flat and lived like students," recalled Mr Dale.
Initially they used their credit cards to the maximum but with customers all over the world they have also hit on a business which seems to be weathering hard economic times.
Mr Dale said: "Football is a global game and if anything we are getting more orders overseas.
"The real thing is looking for the really rare shirts.
"When you get them obviously it's really pleasing and you can pass them on to other people that appreciate them.
"That's why we're still going and looking for more shirts."
One of their biggest coups so far was a deal they landed with Italian giants AC Milan.
"We had a great deal in which we purchased over 15 years of kit room stock, all the items they used in matches in training kit, shirt shorts and sock and even down to the underpants," said Mr Bierton.
"There's some really nice shirts that David Beckham wore so we're lucky in that sense - maybe the underpants will be a bit of a slow seller."