Salford and Rochdale magistrates courts sit for final time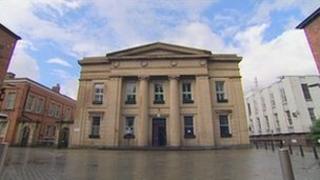 Magistrates in Salford and Rochdale are to sit for the final time later, after the government decided to close the courts.
The magistrates' courts are two of 93 across England and Wales which are being closed.
Salford cases will be heard in Manchester and Rochdale hearings will move to Bury.
HM Courts Service said the changes would mean court services would be more "cost-effective".
Salford City Council opposed the plans, arguing there had been a court in the city for 1,000 years.
There has also been concern among some magistrates about the effect on local justice.
'Preserved not destroyed'
Vivienne Carter, who has been a magistrate in Rochdale for 38 years, said: "I think local justice is really, really important to local people, administered by local people.
"That was the magistrates' court and that ends today for people in Rochdale.
"Each town has its own identity. I think it should be preserved not destroyed."
She added local people understood local issues, which was helpful when dealing with cases.
In a statement, HM Courts Service said: "The government is committed to supporting local justice, enabling justice to be done and be seen to be done in our communities.
"The closure of Salford and Rochdale's magistrates' courts and the movement of work to Manchester and Bury magistrates' courts respectively will mean court services in the area are much more cost-effective.
"Salford magistrates' court's building and facilities are not adequate for providing an effective and efficient court service and there is a significant amount of maintenance backlog work.
"The court is located very close to Manchester city magistrates' court which has modern facilities and can accommodate the work from Salford. Bury magistrates' court can accommodate the work from Rochdale and is a modern court benefiting from good facilities."