Gus John says shooting rioters is 'dangerous' idea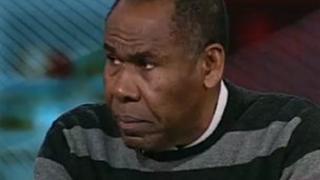 A Manchester academic has said the idea that police could lawfully shoot rioting arsonists was "very dangerous".
A review of the August riots by the Inspectorate of Constabulary has suggested firearms could "potentially" be deployed where arson posed a threat to life.
Moss Side Defence Committee's (MSDC) Professor Gus John said the recommendations were "very worrying".
The report also suggested water cannons and plastic bullets could be used.
The MSDC was formed during the Moss Side riots of 1981 to provide a number of services to the local community, including giving legal support to youths charged with riot-related offences, challenging police accounts and offering a different interpretation of events to the media.
'No military confrontation'
Responding to the inspectorate's review, which looked at the summer riots in cities including Manchester and Salford, Prof John said if police were encouraged to "start shooting at people, you are also risking the possibility of young people shooting at the police".
Various forms of baton round - first rubber, then plastic bullets - have been used to control and counter civil unrest in Northern Ireland.
Prof John said: "In the Northern Ireland situation, there was clearly a military operation.
"The state is not in a military confrontation with its citizens, so what one should be looking at is how the community and the police engage in such a manner that you do not have these things happening.
"Even if one says it was sheer criminality, the question is why did people not simply get up and riot long before the Mark Duggan killing and the events that followed."
He said that the riots were "not inevitable" and that work needed to be done in communities to ensure they did not happen again.
"Let's do something about the number of them that are unemployed, who have no hope, who have a future of futility, but want to engage meaningfully with the community," he said.