Viv Anderson shirt displayed at People's History Museum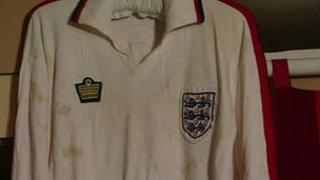 The shirt worn by the first black footballer to play for England has gone on display for the first time at a museum in Manchester.
The shirt was won by Viv Anderson when he played for England against Czechoslovakia on 29 November, 1978.
The former Manchester United, Arsenal and Nottingham Forest defender won 30 England caps during his career.
Anderson had kept the shirt for the past 33 years. It will now be displayed at the People's History Museum.
It has undergone conservation as it was kept in an unsuitable environment, the museum said.
'Hounded me'
Football historian Mark Bushell, who discovered the shirt, said: "This is a truly iconic object which signifies a real change - not just in football, but in society as a whole.
"The shirt represents a seismic shift in the way black people were beginning to be perceived in society.
"Although Viv was a fantastic player, recognised by the best managers of the day, he suffered terrible racial abuse and discrimination, before going on to play at the highest level in the game, culminating in him becoming the first black player to be capped for England in 1978."
Anderson said he was delighted the shirt was finally being displayed.
"Mark rightly hounded me for months about the shirt when he discovered that I still had it," he said.
"I suppose I don't really appreciate how big a deal it is, although I did get a telegram from the likes of Elton John and the Queen when I made my England debut so I guess that tells you something."