England riots: Peter Fahy says GMP criticism is bizarre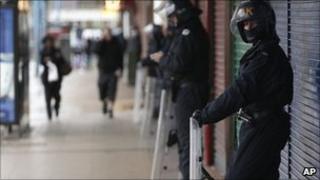 Greater Manchester Police's chief constable says criticism of his force's riot tactics by the Home Affairs Select Committee is "bizarre".
Keith Vaz, who chairs the committee, said people were concerned that police were "not prepared to do anything" about the summer looting in Salford.
But Peter Fahy, GMP chief constable, said the force had had to deal with a sudden escalation of violence.
The select committee report said riot policing across England was flawed.
Mr Vaz said: "We know local people were very worried in Salford. They saw this kind of mindless criminality and they also saw the fact that police were not prepared to do anything to stop it.
"What you need to be able to do in a situation of violence, is to be able to ring the police and they turn up and they are able to quell the disorder.
"This, I'm afraid, did not happen in places like Salford."
Mr Fahy responded: "I think most people listening to that will think it's a bit strange that a riot is going on, you ring the police and suddenly the police turn up as if they are sitting in the police station watching."
He added: "I find it quite bizarre."
Mr Fahy said: "We saw a very, very sudden escalation of violence in Salford and we were trying to keep a watch across the whole of Greater Manchester.
"It's OK with the benefit of hindsight saying we should have known what was going to happen in Salford.
"What we do know is that we prevented violence in a lot of places through good local policing."
Mr Fahy said two of the areas where local policing had "nipped" potential violence in the bud were Oldham and the Wythenshawe district of Manchester.
The Home Affairs Committee report, Policing Large Scale Disorder: Lessons from the disturbances of August 2011, said that across England, insufficient numbers of officers were initially deployed and police training for public disorder was inadequate.