Woman, 51, dies in fire at Denton house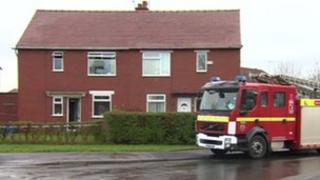 A 51-year-old woman has died in a house fire in Greater Manchester.
Fire crews were called to Shoecroft Avenue, Denton, at 21:20 GMT on Friday and found the woman on the ground floor. She died at the scene.
Neighbours had tried to rescue her before firefighters arrived. One man had to be treated for the effects of smoke inhalation.
The fire service and police have started a joint investigation into the cause of the fire.
One neighbour, Peter Woodruff, described how he tried to help the woman.
"There was such thick smoke you couldn't breathe but obviously you do your best in a situation like that," he said.
"There was another guy and I was concerned for him because he was struggling to breathe. I was trying to get him out as well. He was determined to carry on and get the fire out."
It is understood the woman had lived in the area for more than 20 years and had two grown-up daughters.