Moors murderer Ian Brady to face public hearing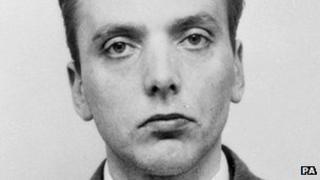 Moors murderer Ian Brady will face a public hearing on whether he should be returned to prison.
Brady, jailed in 1966 for the murder of three children, has been detained at Ashworth hospital since 1985.
In August 2010, Brady made a request that a review into where he is imprisoned be open to the public.
His solicitor Richard Nicholas said Brady, who has been on hunger strike since 1999, wanted to escape "the powers of compulsory treatment".
It will be only the second mental health tribunal hearing to be held in public. A judge granted permission in October, but it can only now be reported.
The mother of Keith Bennett, one of Brady's victims, welcomed the public hearing and told the BBC that she would attend.
Keith, the 12-year-old son of Winnie Johnson, was snatched in 1964 by Brady and his accomplice Myra Hindley.
'Ask him outright'
Brady admitted killing Keith in 1987 but has never revealed where he buried the body.
Ms Johnson said: "I want to go to it, because that's the only way I'll get any idea what he's like.
"If I had my way, I'd ask him outright could he tell me where Keith is and why he's buried him and kept it to himself. But whether he will or not, I don't know."
Ms Johnson, who has cancer, added that it is "ridiculous" that Brady is in hospital and said she does not think there is anything wrong with him.
In October, Albert Haines set legal history when his unsuccessful bid for release from Broadmoor Hospital was heard in public.
Judge Robert Atherton ruled that his reasons for the decision to hold Brady's hearing in public would not be disclosed.
Allowed to die
Mr Nicholas said Brady's application for the hearing had been made on the basis that he "should no longer be detained under the Mental Health Act at Ashworth Hospital".
"He has been on a self imposed hunger strike with a view to ending his life," Mr Nicholas said.
"Whilst he is subject to the Act, it is possible for him to be subject to a forced feeding regime, hence his wish to be transferred back to prison and away from the powers of compulsory treatment."
Brady, who was born in Glasgow, wants to be transferred to a Scottish prison and be allowed to die.
Brady, now 73, and his partner Myra Hindley were responsible for the murders of five youngsters in the 1960s, sexually torturing their victims before burying their bodies on Saddleworth Moor above Manchester.
He was sentenced to life imprisonment in 1966 for murdering 10-year-old Lesley Ann Downey, Edward Evans, 17 and John Kilbride, who was 12.
In November 1985, he was diagnosed as a psychopath, sectioned under the Mental Health Act and transferred from prison to Ashworth, a maximum security hospital.
In 1987, Brady and Hindley confessed to also murdering Keith Bennett and Pauline Reade, 16.
The date of Brady's hearing is yet to be set.