Trafford Council to cut further 100 jobs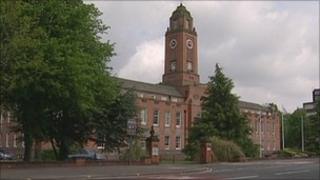 More than 100 jobs are to be cut by a Greater Manchester council as it seeks to save £16m next year.
The Tory-run council hopes volunteers can be used in libraries and parks to help make some of the savings and protect frontline staffing.
Last year Trafford Council shed 150 jobs as it cut its spending by £21m.
Councillor Dave Acton, leader of the Labour opposition, has said that using volunteers will not ease the council's long term finances.
The council's Executive decided on Tuesday evening that it would shed 103 jobs as part of its plans to save £16.2m.
Budget consultation
Announcing the council's budget plans Executive Member for Finance, Councillor Sean Anstee, said the council would do its "very best" to protect as many services as possible.
"We've proved last year we can do that and next year we are trying to do that," he said.
Mr Anstee added local people and groups would be fully consulted during the budget consultation process.
He said when it came to running the libraries with volunteers they would receive full support and training.
Labour's Dave Acton said the council was wasting money on items such as the £1m spent on the Transformation Team to administer the cuts.
"They have a glossy magazine they send out which costs over £100,000, they pay the chief executive over £170,000," he said.