Petition to pardon computer pioneer Alan Turing started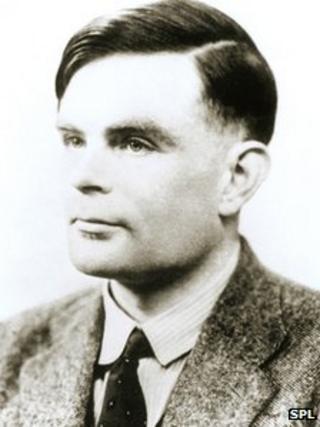 An online petition calling for the government to posthumously pardon Alan Turing and quash his conviction for gross indecency has been launched.
The gay computer pioneer was convicted of the offence in 1952, when homosexual acts were illegal in the UK.
Two years later, he died from cyanide poisoning, which an inquest ruled was suicide.
The e-petition said his treatment and death "remains a shame on the UK government and UK history".
Alan Turing worked as part of the team which cracked the Enigma code at Bletchley Park in World War II and went on to help create the world's first modern computer, the Manchester Small-Scale Experimental Machine.
He also invented a test for artificial intelligence, which is still used in computer science.
In 2009 thousands of people signed a Downing Street petition calling for a posthumous government apology to Turing.
The then prime minister Gordon Brown responded by saying he was sorry for the "appalling" way Turing was treated for being gay.
The new petition said that "Alan Turing was driven to a terrible despair and early death by the nation he'd done so much to save".
"A pardon can go some way to healing this damage. It may act as an apology to many of the other gay men, not as well known as Alan Turing, who were subjected to these laws," it said.
E-petitions allow any UK resident to lobby for a debate on the government website.
If the petition is signed by at least 100,000 people it becomes eligible for discussion in the House of Commons.