Wood dust protesters march from Mossley to Plevin plant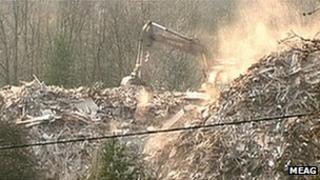 A protest march has taken place in Greater Manchester to a wood recycling plant over alleged air pollution.
Campaigners walked from Mossley to the Plevin plant to raise awareness of the "long term effects on health" of dust.
Donna Liley of Mossley Environmental Action Group said there was concern wood dust was a carcinogen.
A spokesman for Plevin said the company was "certain our site is not the source of the alleged health problems". The Environment Agency is conducting tests.
The spokesman said "no survey by any statutory agency has ever found any evidence of elevated health problems in Mossley, let alone caused by Plevin in Mossley".
Within UK limit
"Nevertheless, as a responsible neighbour that has been operating in this community since 1995, we have welcomed additional air quality monitoring currently being carried out by the Environment Agency," he said.
"We are confident the results will exonerate us."
The Environment Agency has previously conducted a test measuring the size of wood chip particles in the air, which came back well within the UK limit.
The agency has begun a second test, which will be completed in January 2012, measuring the volume of smaller particles, which could go deeper into the lungs and cause more extensive damage if breathed in.
The results of that test will be passed to the Health Protection Agency, which will decide whether advice needs to be issued.
Ms Liley said that she believed "environmental pollution from wood recycling is not good for your health".
"We want much more stringent rules to control wood dust and wood recycling to protect communities.
"We don't want to play Russian roulette with our health," she said.
In April, Plevin agreed to erect an acoustic barrier after consultation with Tameside Council and the Environment Agency, following complaints of excessive noise at the plant.