Nellie Geraghty: Shaw residents hunt for missing ashes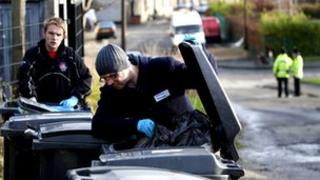 Residents of a Greater Manchester village where a woman died after she was mugged for her handbag have helped police search for its contents.
Nellie Geraghty, 79, was hurt as she tried to stop her bag - which contained her late husband's ashes - being stolen in Shaw, Oldham, on 24 November.
She was found in an alleyway leading from Elizabeth Grove to Kershaw Street but died in hospital the next day.
Volunteers offered to help police on a group set up on Facebook.
The residents in Shaw searched designated areas near the scene with officers, who gave them a list of items to look for which were thought to be in the missing handbag.
Clutching the strap
They included a pink card holder, with the words Ocean Village printed on, a black purse, bus pass, chequebook and a green plastic spiral "clip-on" cord, possibly with a key attached.
A photograph of Mrs Geraghty's late husband Frank was also in the bag, along with his ashes.
Mrs Geraghty was still clutching the strap of her bag when she was found just before 12:00 GMT last Thursday.
Her family said she had carried the ashes everywhere with her and wished to be cremated with them so they could be scattered together on Mr Geraghty's allotment.
The ashes were secured in a small box in a blue velvet drawstring bag.
Det Ch Insp Joanne Rawlinson, senior investigating officer, said: "This is a fantastic idea that came from the goodwill of the community.
"The public-spiritedness shown by the organisers is a credit to the area of Shaw.
"We know Nellie's family and the wider community are desperate to find out exactly what happened to her and we are determined to find both Frank's ashes and identify those responsible."
She added: "To assist, we will brief and accompany all of those who have joined the search. We will ask them to try and identify a number of items which we believe were in Nellie's handbag.
"We believe that Nellie routinely changed the items in which she stored Frank's ashes.
"As a result I am open-minded that the ashes could have been stored in any type of container or bag."
Two boys, aged 14 and 17, were arrested on suspicion of murder and have been bailed until 9 January.
Mrs Geraghty, a former school cleaner and cotton mill worker, was married for 42 years and had four children, four grandchildren and three great grandchildren.