Woman hurt as 'tornado' hits Greater Manchester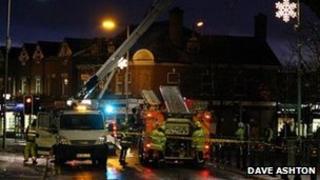 A woman has been taken to hospital after what has been described as a "tornado" struck part of Greater Manchester.
A sudden gust of wind toppled a chimney in Heaton Moor, Stockport, at about 14:30 GMT.
The woman was taken to Stepping Hill Hospital with shock and cuts and bruises, said a fire service spokesman.
There are also reports of wind damage in Blackburn, Lancashire.
Dave Ashton, 38, from Heaton Mersey, was in his computer shop at Moor Top on Heaton Moor Lane when he witnessed what appeared to be a "brief tornado".
Wizard of Oz
"It went almost pitch black," he said.
"The wind suddenly turned up about 20 notches to the point when it became quite frightening.
"It felt like you were in the middle of a hurricane and then it all died down and outside you could just hear car alarms.
"It was very frightening actually. I know a lot of the shop owners and people were quite shaken up."
Heaton Moor Road has been closed between Green Lane and Moorside Road.
Another resident, Eleanor Hirst, 38, who lives on Green Lane, was just about to leave the house with her son.
"It looked like a scene out of the Wizard of Oz," she said. "The sky went black and I saw it all whirling around.
"It was as if you could see the wind itself. It was going around and round. It doesn't surprise me that it was a tornado.
"It was like something that you've never seen before."
'Ripped off'
Paul Duggan from Greater Manchester Fire Service confirmed reports of damage in the Heaton Moor area.
"A number of trees have blown over and appear to be blocking the road.
"Also, a number of chimneys have been reported damaged, one of which collapsed, and I believe an elderly woman has been treated by paramedics and had to be hospitalised."
In Lancashire, the A666 road between Blackburn and Darwen was closed after tiles were "ripped off" the roof of a pub.
Lancashire Police said they received a call at 14:00 GMT from a member of the public reporting a "small tornado".
A Blackburn with Darwen Council spokesman said the Anchor Pub suffered damage to its roof and three other houses were damaged on the A666.
The road was closed to traffic while Council Highways and Building control services check the safety of the damaged buildings.