Up to 20,000 march in Greater Manchester pensions protest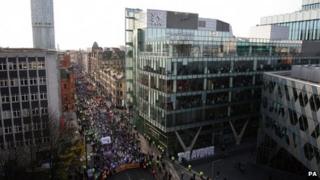 Up to 20,000 protesters have marched through Manchester as part of a national day of action over proposed changes to public sector pensions.
Several hundred also took part in demonstrations in Wigan, Bolton, Bury and Oldham, police said.
Hundreds of schools have been closed in Greater Manchester. Bin collections, library services and children's services have also been affected.
David Cameron said pension reforms were "absolutely essential".
The prime minister added that the strikes had been a "damp squib".
But the TUC said the strike would be the biggest in a generation. General Secretary Brendan Barber said public sector workers did not want to strike but they had seen a "triple assault" on their pensions.
Police estimated about 20,000 people took part in the march through central Manchester, which brought some parts of the city centre to a standstill.
Primary school teacher Paul Murray went to the march with his nine-year-old daughter Eva.
He said: "What the government is doing is completely unacceptable. Nobody voted for it.
"The pension scheme is perfectly affordable if the government stops spending billions on pointless wars and bailing out bankers."
He added that they were defending everyone's pensions, including those in the private sector.
Rebecca Guy, a community psychiatric nurse in Stockport, said she was on strike for the first time because she felt the government was "destroying the NHS."
She added: "We had no money when Bevan created the NHS - the economy was far worse then but we built a NHS that was the envy of the world."
Liz Turner, a physiotherapist for Central Manchester University Hospitals NHS Foundation Trust, said she thought at 55 her pension was safe but she was protesting in support of her younger colleagues.
Mothers and children from Alma Park Primary School in Levenshulme carried their homemade banners protesting about the cutting of their lollipop lady.
Steph MacKenzie, who was marching with her two children, said: "Losing our lollipop lady is all part of the cuts."
No arrests
She added: "I want my children to learn to stand up for what is important to them."
The protesters weaved their way through the city centre to a rally at Whitworth Park at about 13:00 GMT.
Paula Roe, senior vice president of teaching union NASUWT, told the rally: "Mr Cameron, we are the people of Britain, and for many of us today, this will be our first ever industrial action forced upon us by a government paying a debt we did not cause."
Ella Legg, an occupational therapist at Salford Royal Hospital, told the crowd: "I'm 30, and the proposed reforms mean I will have to work to 68. My job is physically demanding and I can't be certain I will be able to do that at that age."
She said public sector workers were facing a proposed 3.2% increase in pension contributions and lower pension payments along with a pay freeze.
Ms Legg added the proposals were "not fair, not necessary and we will show the government ministers that we will not accept it".
Greater Manchester Police said the march passed peacefully, with no arrests.
Assistant Chief Constable Ian Hopkins, said: "An estimated 20,000 people have had their voices heard in a peaceful and legal way across the county and the fact we have not made a single arrest is testament to the way in which the protesters have conducted themselves."
He added: "While the 24-hour strike across public services continues everyone can be reassured that we have spent weeks planning for today to ensure all services to the public are maintained."
Elsewhere, the North West Ambulance Service (NWAS) was affected, with all but essential patient transport services cancelled.
NWAS Unison spokesman Craig Wilde told the BBC emergency cover in the region was running at about 50%.
'Figures inflated'
Passengers travelling into Manchester Airport were also warned of delays, due to strike action by UK Border Agency.
Lawyers manned picket lines outside the offices of the Crown Prosecution Service (CPS) in Quay Street in the city centre.
However, not all public sector workers supported the strike.
Catherine Worral, a social worker in Manchester for 20 years, told the BBC she voted against taking industrial action because she felt it would hit "the most vulnerable in society".
A single parent, she said she had been spending the day looking after her four-year-old son.
She said: "Lots and lots of people will have to take the day off and will obviously be classed as taking strike action when in fact they're off due to childcare or other caring responsibilities.
"This will also make the final figures look inflated and does not give a true reflection of the nation's agreement with strike action."