Shaw robbery victim, 79, has husband's ashes stolen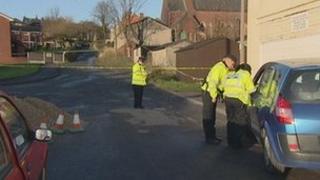 A 79-year-old woman found unconscious in a Greater Manchester alleyway had a handbag containing her husband's ashes stolen from her.
The woman was found in Shaw at midday on Thursday, on a path at the junction of Kershaw Street and Victoria Street.
Two teenagers were earlier seen running down the alley towards Elizabeth Grove.
Police said the woman, who is critically ill, may have struggled with her suspected robbers to try to keep hold of her late husband's remains.
The strap from her handbag was found close to her, although the bag itself was missing.
'Important item'
Police believe it contained a large quantity of cash and a velvet bag containing her husband's ashes.
The woman was taken to hospital, where her condition was described as critical. Her family have been informed.
Supt Catherine Hankinson said: "We don't know for sure, but the fact it contained such an important item suggests she may have put up a fight to keep hold of it, resulting in her being assaulted.
"Whoever did this probably didn't know she sometimes carried the ashes in her handbag and probably would have discarded them.
"She has carried the ashes around with her for the last 17 years. If you come across a discarded velvet bag or a handbag, then please call us."
She added that a mobile police station was now in the area, and asked residents to approach it with any information or concerns.