'More challenging' for Manchester's homeless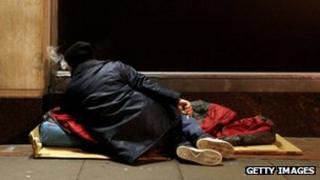 "I'd probably be out shoplifting if these places didn't exist, because I'm living a hand to mouth existence."
For Anthony, being able to access Barnabus' homeless services means that not only does he have food, but he also keeps away from any trouble.
He is one of more than 600 people coming to the Manchester charity for help every week, double the number the service was seeing in 2010.
He said he had to search for help after his Jobseeker's Allowance was cut following a sanction being put in place.
"It was for failing to apply for a job in time," he said.
"I tried to on the internet in the library [but] the problem is you only get an hour and my time ran out.
"I told the job centre but they weren't having any of it.
"My money has been cut and I'm left with £20 a fortnight for myself."
Charity founder Peter Green said Anthony is far from alone in facing "harsh" responses from such services.
Mr Green, who said he was "not a political animal", claimed that the homelessness problem had got worse in the city due to central government policies, such as cuts to services.
"The policies are there and have been brought in - it's making it extremely difficult for people to make ends meet," he said.
"A great many jobs are being lost, people are losing their homes.
"There is only one place for them to go if they've not got family, which is out on the streets."
Caroline Price, director of charitable magazine The Big Issue in the north, said that while they had not noticed a large increase in homeless people in the city, "ad hoc requests for support are slightly higher than expected".
For her, the problem lies not just in government policies but in the wider economic downturn.
"The cuts are one aspect and I'm sure they are having an impact on the people that are homeless, but the problems in economy also affect the homeless," she said.
"Our magazine sellers have had to work longer hours than in the past to sell the same number of magazines.
"We've also noticed an increase in the number of people begging and we're trying very hard to recruit them as Big Issue vendors, so that we can try and support them and help them earn a legitimate income.
"The truth is that it's more challenging to be homeless out there."
Manchester City Council has had a strategy for helping with homeless people in place since 2008, which includes early intervention, partnership working and increased access to housing.
The council's head of homelessness, Keith Davies, said that "at the moment, there's no indication that the homeless problem is getting worse".
Barnabus' Peter Green disagreed, but said that whether it was or it was not getting worse, what he wanted to see was more compassion mixed in with the monetary decisions.
"Hostels have been closed down and there's just not the places for people to go to," he said.
"There is no heart at all, it's just purely business ethics."