Drug dealer Curtis Warren to fight court order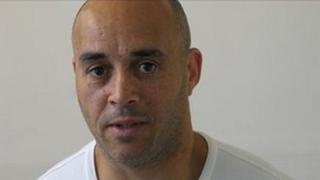 A Merseyside drug dealer has vowed to fight a court order aimed at stopping him running his criminal empire on release from prison.
Curtis Warren will challenge the order being sought by the Serious Organised Crime Agency (Soca) which would place a number of restrictions on him.
Warren was jailed for 13 years in October 2009 for trying to smuggle £1m of cannabis on to the island of Jersey.
The 48-year-old is serving his sentence at HMP Full Sutton, near York.
If the Serious Crime Prevention Order (SCPO) is granted by the High Court it would tie Warren into a series of restrictions including only having one bank account and mobile phone, not being allowed to carry more than £1,000 in cash and a ban on travelling out of the UK.
"We are aware of it and we are dealing with it. His reaction is to defend himself to the hilt. He will challenge it," said Warren's solicitor Keith Dyson.
A Soca spokesman confirmed it was applying for the order, with a hearing expected in early December.
Warren was arrested in Jersey in 2007 soon after his release from 10 years in various Dutch prisons for running a huge drugs empire.
'Lifetime offender'
Following his sentence at Jersey's Royal Court, Soca said Warren was on its Lifetime Offender Management List.
SCPOs are civil orders to prevent or deter serious crime and can last up to five years and can cover any area of activity.
Any breach is a criminal offence punishable by up to five years' imprisonment and an unlimited fine.
Warren, from Liverpool, lost an appeal in March when he argued he should be freed after police in Jersey illegally bugged a car driven by his right-hand man.
The evidence was key in convicting Warren, whose QC told five lords at the Supreme Court there had been an abuse of process.
But after the appeal was rejected his barrister, Tony Barraclough, said Warren intended to take his fight to Europe after he was told that the authorities wanted a confiscation hearing aimed at seizing assets worth around £200m.