Manchester charity Barnabus says homeless numbers have doubled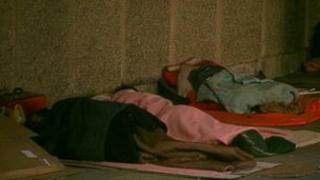 A Manchester homeless charity has said the number of people seeking help from it has doubled in the past year.
Christian charity Barnabus said it was helping 600 people a week, about 25% of whom had recently lost their jobs.
Peter Green, Barnabus project director, said government policies were making life "extremely difficult" for people.
The Department of Work and Pensions said the policies were needed to ensure fairness and there was "transitional protection" for the homeless.
Homeless charities have been warning that cuts to housing benefit would force more people to sleep on the streets.
A report for the charity Crisis said that there has been a 10% increase in people accepted as homeless over the past year.
'No heart'
Mr Green said: "The hardship has been brought in by these government policies.
"I'm not a political animal but the policies are there and have been brought in - it's making it extremely difficult for people to make ends meet.
"A great many jobs are being lost, people are losing their homes.
"There is only one place for them to go if they've not got family, which is out on the streets.
"There is no heart at all, hostels have been closed down, the Direct Access Hostel in Manchester for men has closed.
"There's just not the places for people to go to."
A Department for Work and Pensions spokesperson said: "It is unfair people on benefits can live in housing those in work cannot afford.
"These measures are necessary to help bring housing benefit spending under control and bring fairness back.
"There is no reason for homelessness with transitional protection."