University of Manchester to recruit 100 new academic staff members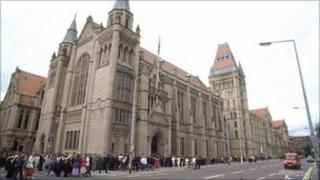 The University of Manchester is to recruit 100 new academic staff members.
The new employees will cost a total of £20m and will be used across different departments to improve teaching and research.
The university has also announced £10m worth of improvements to learning spaces, on top of plans to refurbish the John Rylands University Library.
It said it wanted to provide the best possible learning environment for its students.
'Enhancing research'
The President and Vice-Chancellor of the university, Prof Dame Nancy Rothwell, said: "This year the university has met all of its financial targets, we are in a strong position and we are now at the point where we can invest in staff.
"We believe these new positions are essential to improve the experience of our students, my number one priority at the moment, as well as enhancing our research."
Included in its plans to improve buildings for undergraduates is the ultra-modern Alan Gilbert Learning Commons building, which is set to open next summer.
The university said it was also investing in existing staff, through a scheme where any staff member can apply for funding of up to £15,000 for an idea that they believe can bring value to the university.
It has also launched the President's Doctoral Scholarship Awards, which aim to support 100 new PhD scholarships in any discipline.
The University of Manchester is the largest single-site university in the UK and offers more than 400 different degree courses to nearly 40,000 students
It currently has more than 4,300 academic and research staff.