Heaton Hall and Wythenshawe Hall should be 'handed over'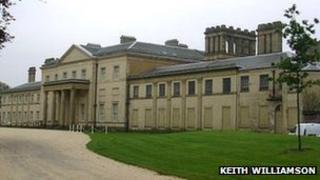 Manchester Civic Society has said the city council should "let other organisations take over" two historic halls to keep them open.
The council has announced that both Heaton Hall and Wythenshawe Hall will be "mothballed" due to funding issues.
Society chairman John Kershaw said they were "too important to be left at risk".
Manchester City Council said it would preserve them until they could be reopened to the public.
Mr Kershaw said: "They should look at what other councils have done and if they can't keep the buildings open, they should get out of the way."
'Grave concerns'
Councillor Mike Amesbury said the council was "striving to find solutions for the long-term futures of Wythenshawe Hall and Heaton Hall, but recognise that in the current economic climate there is no immediate prospect of securing the level of funding needed".
"In the meantime, the two halls will be mothballed to preserve them until they can be returned to full use and reopened to the public," he said.
Mr Amesbury said that the artistic and historic collections at the properties had been brought together so curators could manage them "more effectively and provide good environmental conditions".
"This is why we are relocating the entire Wythenshawe Hall collection of furniture to Heaton Hall, and have already relocated paintings and decorative arts objects to Manchester Art Gallery," he said.
However, Mr Kershaw said the society had "grave concerns because these are very important buildings to Manchester's heritage".
"From our experience of these things, once a building is closed, they start to deteriorate and they are then at risk and these buildings are too important to be left at risk in this way," he said.
"Manchester should look for imaginative solutions in relation to this, such as working with the National Trust or English Heritage."