Knitted coat made in Stockport breaks world record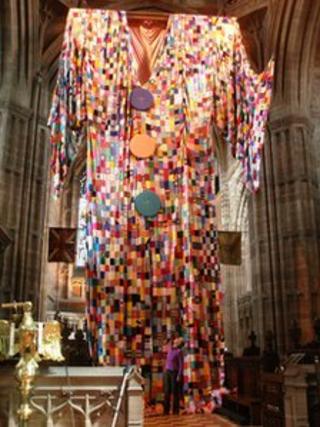 A coat made from more than 8,000 knitted squares has made its way into the Guinness Book of Records as the world's largest jacket.
The Coat of Many Colours was made by children and parishioners at St George's Church and primary school in Stockport, Greater Manchester.
It measures 42ft 6in (13m) by 18ft 2in (5.5m) and weighs more than 364lbs (165kgs).
The church said it will be taken apart to make blankets to send to Africa.
A coffee morning is being later to celebrate the receipt of the official Guinness Certificate confirming the record set with the coat.
It was made for a production of Joseph and the Amazing Technicolor Dreamcoat, performed by parishioners at the St George's Festival this summer.
Work on the 8,832 squares, which make it up, began last autumn as part of a community knitting project.
It took 10 people using ropes to raise it into position for a display above the church choir.
The coat beat the previous Guinness World Record set by a group in the Ukraine.
That one was 9.9 m (32 ft 6 in) long and 5.4 m (17 ft 9 in) wide and was created by Michael Voronin to celebrate the Ukrainian fashion holiday in Kiev on 8 September 2002.