Moss Side boxing club gets 2012 legacy funding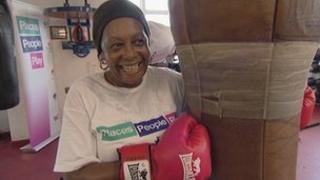 A boxing club in Manchester has become the first sports group in the UK to secure funding from a London 2012 Legacy Fund.
Moss Side Boxing and Athletics Association is among 632 organisations to have submitted bids for a share of the £17m Inspired Facilities fund.
It has been awarded £41,355 to upgrade its gym, where Beijing Olympic boxers John and Joe Murray trained.
Remaining applicants will discover by Christmas if bids are successful.
The Moss Side Amateur Boxing Club was formed in the wake of the Moss Side riots 30 years ago and is used by people of all ages and all backgrounds.
'You're welcome here'
Beverley Bradshaw, from Moss Side, started working out at the Princess Road club after losing her job last year.
She said the the gym has helped keep her body fit and her mind positive.
"What I like about this gym is, it doesn't matter about the ages whatsoever," she said.
"As long as you can hit the bag and move about, you're welcome here."
Sport England chairman Richard Lewis said the 2012 legacy programme was designed to pay for long term improvements to community sports facilities.
"This fund has really hit the mark with sports clubs," he said.
"It shows we're offering the sporting legacy that people want and that our work to simplify the application process has paid off.
"And what better example is there than this facility in Moss Side?" he added.
"You can just see that it's so much an important part of the community."
The Inspired Facilities fund is part of the Places People Play programme, which was set up to help deliver benefits to communities from the London 2012 Olympics.
A further 2,000 bids are expected to be submitted over the four remaining funding rounds.
Olympics Minister Hugh Robertson said: "I am delighted that the Moss Side Boxing & Athletics Association is the first to benefit from this funding and hope it goes from strength to strength in the future.
"We want to use the Olympics and Paralympics next summer to inspire a generation to get involved in sport across the country.
"This is why, as part of the £135m Places People Play legacy programme, we invited community sports clubs to apply for funding to upgrade their facilities."