Barbara Cartland and Colditz Cock spark Tatton Park art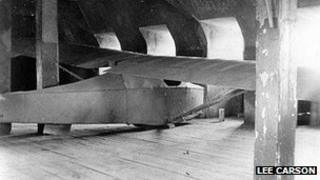 Art inspired by Barbara Cartland and a World War II escape glider has won a place at a major North West show.
Manchester collective Ultimate Holding Company's Colditz Cock - named after the glider - will show at Tatton Park Biennial 2012.
It won an open competition to be included, along with Liverpool collective Pointfive's Black Box.
A spokesman said the 2012 event, the third at the National Trust property, will examine "the human urge to fly".
Ultimate Holding Company's piece has been described as "exploring the literary legacy of this international author, her fascination with flight and early gliding and the story of the Colditz Cock, an escape glider built by British prisoners of war," by the spokesman.
He said Pointfive's work, which will be a kiosk based on a black box flight recorder, will "work as both a meeting and information point and an experiential artwork exploring the passage of time".
'High-quality proposals'
Biennial curators Danielle Arnaud and Jordan Kaplan, who judged the 2012 Biennial Open Competition said both winning entries had "real imagination".
"We were very fortunate to have had such high-quality proposals for the 2012 competitions and thank all those who put themselves forward," they said.
"We are delighted to be including Pointfive and Ultimate Holding Company.
"Both groups have brought us plans that address the biennial and its audience with real imagination and we feel certain these commissions will be valued by visitors in 2012."
The prize for the competition, which had two categories - one for North West artists and another for recent Cheshire art graduates - awards the winners with a budget to cover fees, materials and expenses, as well as a place at the 2012 Biennial.
Tatton Park Biennial was inaugurated in 2008 and sees both established and new artists and writers creating works to a theme chosen by its curators.