Atom test conscript John Morris became 'human X-ray'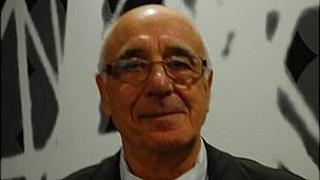 Like many other young men doing National Service, John Morris thought Christmas Island was an idyllic posting.
"If someone had told you that you were going to be on a coral island, you would have thought, 'what a damn good place'," said Mr Morris, from Royton, Greater Manchester.
But he added: "Little did we know what we were being sent to."
The conscripts had a ringside seat at the tests for Britain's hydrogen bomb in 1957-58 after building the airport for the Vickers Valiant plane which dropped the bombs.
Mr Morris, a 74-year-old grandfather-of-four, was on the island for five tests, and has vivid memories of the last one.
"It was the biggest firework I ever saw in my life... it's almost impossible to describe," he said. "The heat and the blast were absolutely frightening."
Mr Morris recalled the day when he became a "human X-ray".
"We didn't actually hear the explosion initially, we saw the sheer brilliant light, we had sunglasses on, cloths over our eyes and I could see right through my hands."
The servicemen had lorries on standby to ferry them to nearby ships if the test had gone wrong, but the heat was so intense that it was three hours before the metal lorries had cooled down for the men to board.
Back in civvy street the experiences of Mr Morris and his comrades were a pub talking point, but as the years passed they wondered if a whole series of health problems were caused by the tests' radiation exposure.
'Guinea pigs'
"Most of the people who have been on Christmas Island have had some form of cancer if the records are to be believed," he said.
He detailed a series of health issues which he said he believed could be related to his involvement in the atomic testing.
Seven years ago he was diagnosed with prostate cancer, and has been in remission for the past two years, needing annual check-ups.
He also suffers from pernicious anaemia, a blood condition caused by a lack of Vitamin B12 which impairs the production of red blood cells and has left him needing injections every three months.
He said a broken arm he suffered 30 years ago took an unusually long time - nine months - to heal.
And some 51 years ago, his baby son died at the age of four months from what was said to be a "cot death".
Mr Morris said: "I know some of these could be explained on their own, but put them together and they sound a bit fishy."
He added: "I would be amazed that the so-called experts did not know the guinea pig status that we were being subjected to."
He is one of 1,014 vets whose case is being heard in The Supreme Court, but he said their cause was less about money than an acknowledgement of what happened to them.
'People have suffered'
"We've been totally ignored by the Ministry of Defence, so much so we've had to cut our own medal for Christmas Island," he said.
He added: "The MoD is complaining about the costs of our taking them to court. This is taxpayers' money, why can't they get their heads together and settle out of court? So many people have suffered so much and have to fight in a court of law.
"I believe in 1958 the Christmas Island veterans did a wonderful thing for country that made it special. We became one of the nuclear powers and I find it staggering that we have been ignored."
MoD lawyers have consistently argued that no causal link can be proven between the veterans' health conditions and their exposure to radiation.
An MoD spokesman said that court hearings had "considered, to some extent, the merit of the claims in terms of causation and concluded that the general merits of the claims were extremely weak".
He added: "We recognise the invaluable contribution of all service personnel who took part in the nuclear testing programme."
Inside Out North West is on Monday 14 November on BBC One at 19:30 GMT and on BBC iPlayer for seven days afterwards.