Lancashire Fusilier finally laid to rest in Bury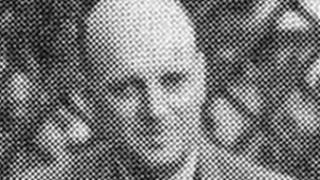 A Salford war hero's remains have finally been laid to rest at his old regimental home after being saved from a forgotten Spanish grave.
"Fearless" Sir Gilbert Mackereth was awarded the Military Cross for his bravery during World War I.
He retired to Spain where he died in 1962, but his grave was about to be destroyed because of unpaid taxes.
His remains were brought back to the UK and have now been scattered at the Lancashire Fusilier's Museum in Bury.
His cousin, John Sloan, 86, from Solihull, West Midlands, unveiled a memorial stone at the museum during the ceremony on Friday.
Terry Dean, a military historian and member of the Western Front Association (WFA) from Preston, Lancashire, headed a campaign to repatriate the remains and bring them back to Bury.
He said: "He finally made it home.
Eviction notice
"It was very, very poignant and I feel very, very proud that the job was done and done in such a fitting manner."
After the war, Sir Gilbert became a Knight of the Realm following his distinguished career in the diplomatic service.
His wife, Lady Muriel Mackereth, died in 1979, but they had no children.
With no close relatives, taxes, levied on graves in Spain, remained unpaid, and his remains were about to be exhumed - until a chance visit by Mr Dean.
He visited the San Sebastian grave in August 2009 while travelling to France via Santander for a holiday and placed poppies and a remembrance note with his name and that of the WFA.
Two months later, he received an email from a local woman, Cristina Garcia, warning an "eviction notice" had been placed on the grave.
Mr Dean then appealed for relatives of Sir Gilbert to come forward and the The Sun newspaper stepped in to pay the outstanding 330 euro (£287) taxes.
Later, Mr Sloan, the WFA and the Fusiliers regiment agreed to pay for Sir Gilbert's remains to be brought back to England in time for this year's Armistice Day.
Sir Gilbert was awarded the Military Cross after he dashed 100 yds under enemy fire across no-man's-land to save comrades during a battle in WWI.
His MC was awarded for "conspicuous gallantry" for his action at Saint Quentin in France in April 1917.
He had a meteoric rise through the ranks from private to becoming a Commander of the 17th Battalion Lancashire Fusiliers.