Sikhs celebrate new Sri Guru Gobind Singh Gurdwara temple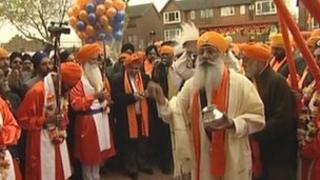 Thousands of Sikhs have gathered to celebrate the opening of the community's first new temple in Manchester for 35 years.
An official opening ceremony was held at the £2m Sri Guru Gobind Singh Gurdwara in Whalley Range.
Celebrations are expected to last three days with a huge firework display planned.
Prakash Singh, general secretary of the gurdwara, said it was a great day for the Sikh community.
"It's 35 years since a new temple has opened in Manchester and we are very excited," he said.
Festive treats
"Today, we have had the massive occasion of the opening ceremony and we are holding readings of the holy book which will take 48 hours.
"We are expecting 5,000 people over the three days, and masses of food and festive treats have been prepared for the whole congregation."
The building on Upper Chorlton Road has taken seven years to complete.
Mr Singh said it was long overdue.
"The Sikh community has grown considerably over that period from 500 families to 2,500 families," he said.
"There are now 15,000 Sikhs in Manchester and that figure is increasing all the time."
The new building will also serve as an educational and cultural centre.