Children in Need helps charity support girl, 10, with bone cancer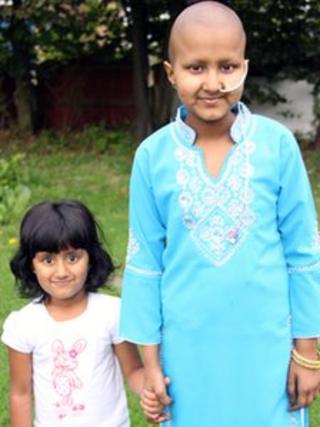 When Anisah Khan was diagnosed with cancer at the age of nine she and her family were left "shocked".
"We went to our local hospital and had X-rays and scans done and then my mum found out I had bone cancer in my leg," she said.
It was a worrying time as Anisah, from Bury, began a course of chemotherapy.
A year later and with help from charity the Rainbow Trust, which has been supported by BBC Children in Need, life is much better.
The trust helps families who have a child with a life-threatening or terminal illness.
The local branch of the charity assigned a family support worker to reassure Anisah and help take her mind off the treatment.
"They came to my home, they came to hospital, played games and made stuff and I loved what we did," she said.
"When I had chemotherapy, I was a bit drowsy but the playroom leader helped me a lot."
Anisah has now finished her treatment and, although she is not yet in remission, says she is now winning her battle with cancer.
But she has not forgotten what the charity did for her.
"I think Rainbow Trust are important, because they help families who have been through a very hard time," she said.
Children In Need provides funds to help millions of people and charities across the UK.
In Stockport, £69,610 has been given to the trust, which has paid for a family support worker in Manchester for the past three years.
Heather Wood, the trust's chief executive, said: "Their work is uniquely tailored to each family, including supporting the child in hospital, helping look after siblings and giving emotional and practical support to the families when they most need it."
She added that the support from Children in Need was "invaluable".
BBC Local Radio is hosting 22 special screenings of Grease in aid of Children in Need, at Cineworld cinemas across England on Tuesday 15th November. Tickets are £6, with £5 going to Children in Need.
More details here.