Salford Co-op restores World War I soldiers' memorial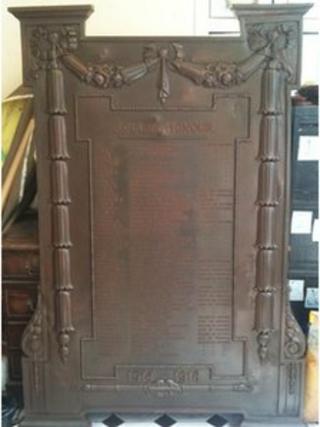 A once neglected World War I memorial is to be unveiled at a Salford funeral home later to mark Remembrance Day.
The bronze roll of honour was found battered and broken in a Manchester scrapyard two years ago.
It bears the names of 49 fallen soldiers who worked for The Co-operative and enlisted in Manchester and Salford.
Meanwhile, towns across Greater Manchester will mark the day with a two-minute silence at 11:00 GMT.
The memorial, which has been restored using antique bronze, has been installed at The Co-operative Funeralcare on Cross Lane, Salford, a mile from where it used to hang at the now demolished Co-operative shop-fitting works in Vere Street.
The £7,000 restoration was funded by the the company and the War Memorials Trust.
'So emotional'
Funeral home manager, Andrew Waters, said: "All of us here are immensely excited at having the memorial make a permanent home in Salford which commemorates so many brave local men and boys."
Carol Pearson, the granddaughter of Private Hubbard, whose name appears on the roll, said: "My mum and I knew that there was a memorial somewhere so when I heard about this being found I knew it was the one.
"My grandfather was just 23 when he died so didn't get a chance to have a life. Seeing the memorial now in a lovely home is so emotional."
In Manchester city centre the start and finish of the two-minute silence will be signified with the firing of a maroon mortar flare from the roof of Manchester Town Hall.
Remembrance Day commemorates the Armistice agreement on the 11th day of the 11th month between the Allies and Germany to cease hostilities on the Western Front at the end of World War I.
Members of the Greater Manchester Stop the War Coalition will be holding poetry reading and lighting candles in the St Peter's Square Peace Gardens in Manchester at 17:30 GMT to remember killed soldiers and appeal for British troops to be withdrawn from Afghanistan.
Imperial War Museum North is marking the day by publishing 100 previously unseen portraits of people who served in World War I on Flickr.
It said it will continue to publish photographs from thousands of private collections until August 2014, which will mark the 100th anniversary of the war's outbreak.