Barton Energy Plant plans rejected by Trafford Council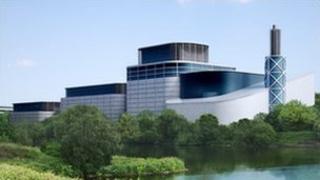 Plans to build a energy plant in Greater Manchester have been rejected by councillors.
Members of Trafford Council's planning committee voted unanimously to refuse an application by Peel Energy to build a biomass incinerator in Davyhulme.
A council spokeswoman said there was a "genuine and significant public concern over the perceived impact on public health" of the planned incinerator.
Peel Energy said it was disappointed and considering its next move.
The Barton renewable energy plant would have burnt waste wood.
Council planning officials had recommended in their report to councillors that they should approve the plans.
But the spokeswoman said councillors decided the site near Barton Bridge was not situated far enough away from residential areas and it could have had an "adverse impact on the regeneration of the local area".
Jon England, Peel Energy project manager, said: "We are disappointed that the planning committee has seen fit to turn down the expert evidence placed before it. The recommendation for approval was very clear.
Energy targets
"The proposal accords with national and local planning policy and a number of other similar proposals have gained planning consent elsewhere recently."
He added: "We realise that applications like these are not easy. However, modern and reliable power plants are required if the UK is to meet its renewable energy targets, avoid valuable resources going into landfill and to keep the lights on."
Mr England said the company would "take some time to consider the findings of the committee's official written report" before deciding on its next move.
Campaigners against the plant said it would pump pollutants into the air around Davyhulme.
Mason Corbishley, a member of the Breathe Clean Air Group, said after the vote: "We are jumping for joy."
He added that the campaigners would continue their opposition to the plant, if the company took the decision to an appeal.
Almost 5,000 people signed a petition against the proposals.