Manchester City's Carlos Tevez selfish: MP Jim Sheridan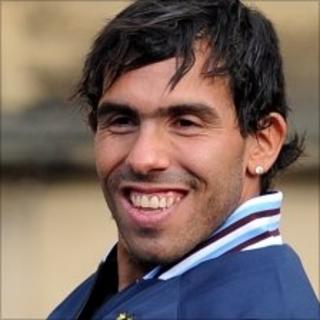 Manchester City player Carlos Tevez has been condemned as selfish by an MP in the House of Commons.
Jim Sheridan has tabled a Commons motion after the striker was fined for refusing to warm up during a European Champions League tie at Bayern Munich.
The Paisley and Renfrewshire North Labour MP said Tevez, 27, epitomised "what is wrong with modern football".
He also backed TV pundit Graeme Souness who described the player as a "bad apple" and a "disgrace to football".
The motion added that "professional football players are paid to play and the Football Association and Sky Sports should support Graeme Souness in any future legal action against him for expressing his views".
Fine halved
The Argentinian was found guilty of committing five breaches of contract in the game against Bayern Munich on 27 September, an investigation by Manchester City found.
Manager Roberto Mancini wanted to bring Tevez on as a substitute with 35 minutes left but he refused to warm up.
City lost the game 2-0.
Tevez was fined four weeks' wages over the incident but that was halved following intervention from the Professional Footballers' Association.
It is anticipated Tevez will leave the club, either on loan or permanently, in January.