Saline deaths: Stepping Hill Hospital reduces security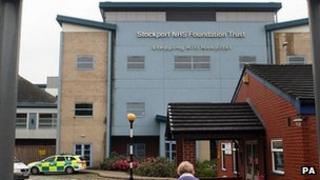 Stockport's Stepping Hill Hospital has removed the constant presence of security guards from its entrances.
The 24-hour coverage, which began in July after the deaths of three patients due to saline contamination, has been reviewed and, since mid-October, guards have only been used at peak times.
A spokeswoman said the hospital had reverted to "security spot checking".
She added that despite the change, there were "a number of important security measures still in place".
'Peak times'
The hospital was put on high security alert in July following the discovery that saline administered to patients had been contaminated with insulin.
The spokeswoman said the 24-hour security presence would be reinstated "if something dramatic happened".
"We have been constantly reviewing the levels of security that are required, and since mid-October the guards have just been used for peak times," she said.
"We are now going to revert to security spot-checking at entrances, which is part of the general traffic control measures we had in place before the saline incident."
She said the "safety and security of our patients" remained the hospital's highest priority and that other security measures introduced following the saline contamination remained.
These include CCTV in some treatment rooms, having two nurses involved in preparing and handling drugs on wards, a requirement for people to sign in and out of treatment rooms and security guards being on mobile patrol within the hospital.
Released without charge
The police investigation into the poisoning of patients at the hospital is continuing.
Rebecca Leighton, a nurse at the hospital, was held in custody for six weeks charged with counts of criminal damage with intent to endanger life and theft.
She was released without charge on 2 September but remains suspended from work while an internal investigation is carried out.
Greater Manchester Police said in October it would be be very difficult to charge anyone with the murder of the three patients and that the inquiry could take "months or even years" to conclude.