Munir Farooqi family petition over home seizure bid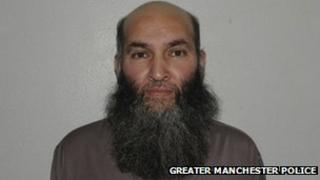 The family of a convicted terrorist have handed in a petition to the Crown Prosecution Service (CPS) over plans to seize their home.
Munir Farooqi was given four life sentences in September 2011 for trying to recruit two undercover police officers for jihad in Afghanistan.
The police and CPS want to seize his home in Longsight, Manchester, saying it was used for terrorism.
The CPS said the final decision would be made by a court.
The seizure application is believed to be first of its kind in the UK.
Farooqi was convicted of terrorism offences, preparation for terrorist acts overseas, three counts of soliciting to murder and dissemination of terrorist publications.
His family have said seizing the home would leave three generations of a family homeless, including an eight-month-old baby.
The CPS have disputed this, arguing the family owns two other properties.
'Family considered'
The family say about 10,000 people have signed a petition on the matter.
Handing in the petition, Harris Farooqi said: "Hopefully the CPS and the police themselves will see sense."
A spokeswoman for the CPS said: "The Crown Prosecution Service is making an application under S23a of the Terrorism Act 2000, for the forfeiture of Munir Farooqi's home address... on the basis that it has been used for the purposes of terrorism.
"The power to forfeit residential premises in these circumstances is a new power under the Counter-Terrorism Act 2008, and before any decision is made, the forfeiture application is considered by the court and the family will be given an opportunity to be heard.
"The court will consider the effect of any order on the family members."
She added that the CPS enforced the law, but did not make it.
The case is expected to be heard in court in March.