Lowry figures brought to life in Manchester and Salford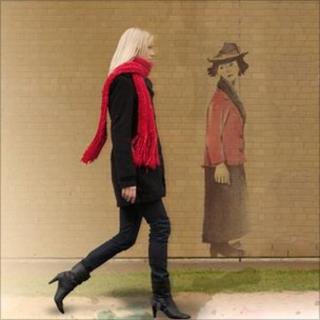 A famous LS Lowry painting is to be brought to life using ordinary people in Manchester and Salford.
Two Manchester artists have created an art installation based on Lowry's 1954 painting, Piccadilly Gardens.
Motion sensor cameras will film passers-by and use their movements to animate Lowry figures in a giant projection of the work.
The event marks the opening of the new University of Salford building at MediaCityUK on Saturday.
Lowry's famous crowd scenes in the industrial North were the inspiration for Alastair Eilbeck, a former University of Salford student and creator of Lowry to Life.
"I'm very interested in art in public spaces and much of Lowry's art depicted people in public scenes, so there was a common link from the start."
Researching the Salford artist, Mr Eilbeck realised that many of the figures in Lowry's paintings were identifiable as real people the artist knew.
"It made me think that, if we could somehow use members of the public to animate Lowry figures in a painting, it would be an appropriate way to celebrate his work and bring it to a new audience."
Working with artist James Bailey and a creative software developer, Mr Eilbeck developed his Lowry to Life idea.
'Spirit of Lowry'
Cameras set up in Piccadilly Gardens and Salford Quays will film members of the public moving and reproduce their movements in real time.
The end result will be a re-imagining of the artwork with Lowry's matchstick figures moving through a digital projection of the painting.
Each of the animated figures will be based on real characters from Lowry's paintings, including The Lying Man, The Cripples and A Day Out at the Prom.
Wirral illustrator Maria Pearson painted each figure from four different views so they can be shown from differing angles on screen when reacting to the movements of visitors.
"The effect... will be similar to split pin puppets which I think will capture the spirit of Lowry," said Mr Eilbeck.
"I hope it's an interpretation of his work of which he would have approved."
Lowry to Life is part of Believe, a free multimedia event organised by the University of Salford, from 10.30am-5.30pm on Saturday 12 November at MediaCityUK, Salford Quays.