University of Salford to dig Manchester boroughs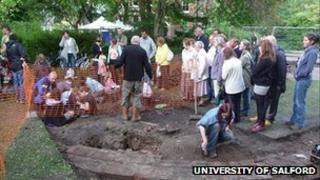 The University of Salford has announced a four year archaeology project which will see 9,000 people involved in digs.
Dig Greater Manchester, which will also include a study in Blackburn, will see volunteers work alongside experts at 11 sites.
Brian Grimsditch, who works at the university's Centre for Applied Archaeology, said it was "one of the biggest projects in the country".
"It will be a wonderful way for people to learn about the history," he said.
The project, funded by the Association of Greater Manchester Authorities, is intended to be a learning experience for everyone involved, with workshops being held to equip volunteers with archaeology skills.
It will see one dig take place in each of the 10 Greater Manchester boroughs, with one extra study taking place outside the area in Blackburn.
The specific sites of the excavations have yet to be announced, but a university spokesman said they would "range from the medieval to industrial mills".
About 6,000 school and college students will take part in the digs, with the other 3,000 volunteer places being offered to members of the local communities where the digs will take place.
The digs will be accompanied by a series of lectures and presentations on the local history and archaeology of the boroughs.
The whole project will finish with a conference that will present an overview of all the archaeological findings.
Manchester City Council's Paul Murphy said it was "a fantastic project that will get thousands of young people across Greater Manchester involved in something hands-on, educational and exciting".
"It will also provide them with a vital opportunity to learn about the history of their local community and obtain new skills that they may want to develop into a future career," he said.
Norman Redhead, Greater Manchester County Archaeologist said the project would "build on the long tradition of community engagement with the area's archaeology".
"I suspect local communities will be amazed at what they uncover on their doorstep," he said.
"We know from previous community digs that the people of Greater Manchester have a tremendous enthusiasm for getting involved with their local heritage.
"I can't wait to see what the project unearths."