Arrest over Blackley Cemetery bronze memorial plaques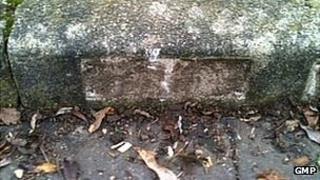 A man has been arrested over the theft of bronze memorial plaques from a cemetery in Manchester.
The 44-year-old from Blackley is being questioned in custody over the theft of 10 remembrance plaques from Blackley Cemetery on Victoria Avenue.
The plaques, which were screwed to a kerb, were taken between 31 October and 7 November, police said.
Their theft was described by officers as "contemptible" and "deplorable". The metal has little financial value.