Bronze memorial plaques stolen from Blackley Cemetery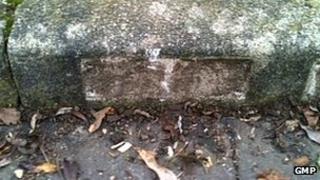 Thieves have stolen 10 bronze plaques from a Manchester cemetery.
The memorial plaques, which were screwed to the kerb of Victoria Avenue in Blackley Cemetery, were taken between 31 October and 7 November.
PC Stuart Worthington said the theft was "a completely deplorable incident".
"The cemetery is for people to remember loved ones and to desecrate a person's memory by stealing their plaque is beyond contemptible," he said.
Manchester City Council's Executive Member for Culture and Leisure, Mike Amesbury, said: "This shameful crime beggars belief".
"These plaques have enormous emotional value for the people whose loved one they commemorate, but next to no financial value and you really have to question the humanity of whoever did this.
"I would urge anyone with information about this despicable theft to get in touch with the police immediately.
"I can't believe any decent person's conscience would allow them to keep quiet."