Grey Mare Lane Market blaze 'caused by firework'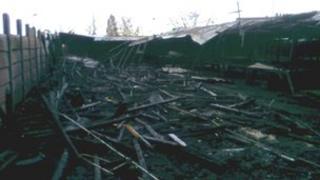 A firework is believed to be the likely cause of a blaze at an outdoor market in Greater Manchester, the fire service has said.
Crews were called to part of Grey Mare Lane Market in Beswick at about 19:00 GMT on Sunday.
Sixty wooden stalls were destroyed at a privately-run site known as the back market which was closed at the time.
A fire service spokesman said the blaze took two hours to bring under control. No-one was injured.
Michael Don, owner of the back market, said the fire was "devastating" but said hoped it would reopen soon.
"We've got all the lads that work on the company helping, there's traders, there's public coming in helping.
"We'll have it all cleared by Wednesday."
The council-owned brick-built market building next door on Grey Mare Lane was unaffected.