Bid to trace girl abducted by father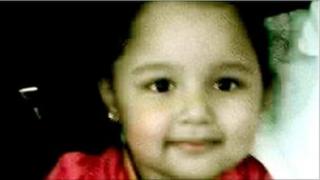 An appeal has been made to trace a four-year-old girl abducted by her father who told the child's mother she "would never see her again".
Solicitors want information about Atiya Anjum-Wilkinson so she can be reunited with her mother, Gemma Wilkinson.
Ms Wilkinson, a former charity worker in her 30s, from Greater Manchester, has not seen Atiya for two years.
Atiya, who will be five on Monday, was abducted by former insurance salesman Razwan Ali Anjum.
Lawyers representing Ms Wilkinson, who is from Ashton-Under-Lyne, said she took legal action in an attempt to force Anjum to reveal Atiya's whereabouts.
Anjum, who is in his late 20s and also from Ashton-under-Lyne, is in jail for contempt of court for repeatedly refusing to comply with a court order to reveal Atiya's whereabouts.
'Merely birth mother'
One judge has described the case as "as bad a case of child abduction as I have encountered".
Atiya vanished after going to stay with her father, who said he was taking her to Southport but took the girl to Pakistan informing her mother that she was "never going to see Atiya again", a legal hearing was told.
Anjum, who suggested that Atiya was now in Iran, living with one of his former girlfriends, had referred to Ms Wilkinson as "only or merely her birth mother".
Details of the case emerged in August at a public Court of Appeal hearing in London where Anjum failed to persuade judges to rule that he had been jailed unfairly.
Lord Justice McFarlane, Lord Justice Hughes and Lord Justice Tomlinson dismissed Anjum's appeal but also decided that Atiya should not be identified. However, Lord Justice Hughes lifted the publicity ban a few days ago after a challenge by the Press Association (PA).
He ordered that Atiya's name and photograph could be published after the PA argued that publicity might help find her.
Solicitor Matthew Lord, of law firm Pluck Andrew & Co, which has an office in Ashton-under-Lyne, said: "The father has said she is now in Iran but she could well be in the UK - she could be anywhere.
"We think that one possibility is that she is in the Huddersfield area of West Yorkshire."