MOSI in merger talks with National Science Museum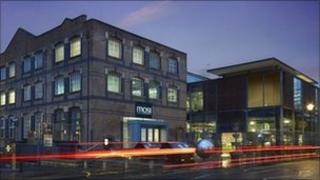 Talks are to begin over a possible merger between Manchester's Museum of Science and Industry (MOSI) and the National Science Museum in London.
The move would make MOSI part of a group including the National Railway Museum in York and the National Media Museum in Bradford.
Last year the museum was told it would lose all government funding by 2015.
Peter Fell, MOSI's interim chairman, said its trustees were exploring the long-term benefits of a merger.
A spokesman for the National Science Museum in London said it was talking to MOSI and the Department of Culture Media and Science (DCMS).
The initiative for the merger came from DCMS.
Mr Fell said: "MOSI trustees need to be satisfied that the new arrangements will ensure the long-term sustainability of this great museum in Manchester.
Industrial heritage
"A lot of detailed work still needs to be done before a final decision is made and I hope to make an announcement shortly."
The museum, which employs 121 staff including part-time and casual, has been looking to secure its financial future since a decision in November 2010 by the DCMS to withdraw funding for regional museums.
It showcases the story of how Manchester and north-west England led the world during the industrial revolution and subsequent science and technology innovations.
It is one of the most popular attractions in the North West, drawing up to 800,000 visitors a year.
Four of the Museum's buildings were once part of Liverpool Road railway station and its associated warehouses, which opened in 1830 as part of the world's first intercity passenger railway, between Liverpool and Manchester.
The museum, opened in 1983 after a campaign to protect the site and find an appropriate space to showcase Manchester's industrial and scientific heritage.