Jet from Manchester slides off runway in Munich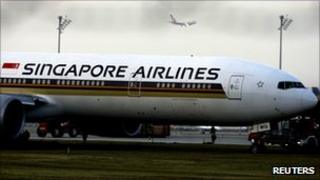 Two hundred passengers flying from Manchester to Germany escaped unhurt after their plane slid off the runway in Munich.
The Singapore Airlines Boeing 777-300ER veered off the runway on landing at 12:10 local time, coming to a rest on grass.
The flight, SQ327, left Manchester at 09:00 GMT and was due to depart Munich for Singapore at 13:10 local time.
Alternative arrangements have been made for passengers travelling to Singapore.
A Singapore Airlines spokesman said no emergency evacuation had been needed.
He said the cause of the incident was not known but the airline would co-operate fully with an investigation into the incident.