Life for Leigh man who suffocated Thai wife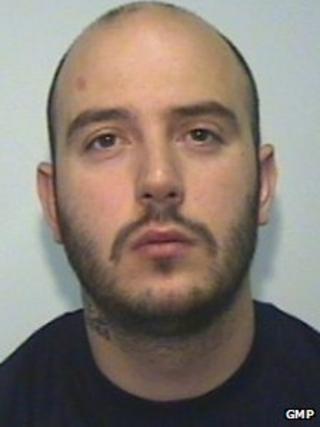 A man who suffocated his Thai wife in their home has been jailed for life.
Rickie Nehls, 30, of Maple Crescent, Leigh was found guilty of murdering Pornpilai Srisroy at Preston Crown Court and sentenced to life, with an order to serve a minimum of 12 years.
Nehls, also known as Rickie La-Touche, told police he had killed Mrs Srisroy after she threatened to leave him.
Senior investigating officer Andy Tattersall said police "may never know exactly what happened that morning".
Nehls was arrested on 26 April after he told his mother he had killed his wife.
Before calling the police, a family member went to the couple's home to check if what Nehls was saying was true.
Having confirmed his confession, they called the emergency services, who discovered Mrs Srisroy's body on a bed upstairs with a pillow over her face.
Nehls told police the couple had been arguing and Mrs Srisroy had threatened to leave him and return to Thailand.
He said that after further arguing, all he could remember was getting on top of his wife and that he thought he had choked her.
A post-mortem examination concluded the cause of Mrs Srisroy's death was asphyxiation.
Mr Tattersall said it was "a tragic case where a young woman's life has been taken at the hands of her husband".
"Unfortunately, we may never know exactly what happened that morning, but I hope that La-Touche's sentence is of some small comfort to Pornpilai's family and friends," he said.
"La-Touche will now also have to live the rest of his life with the awful knowledge that he is responsible for killing his wife."