Elderly man hurt in Halloween attack at his Manchester home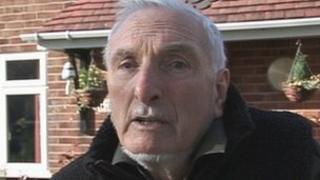 A 79-year-old Manchester man suffered a serious leg injury when a concrete slab was thrown at him on Halloween.
A gang of teenagers threw eggs at Bernard O'Donnell's house in Sandacre Avenue, Baguley, when he refused to answer the door to them on Monday.
Mr O'Donnell said he came outside and the flagstone was thrown at him, leaving him in "intense pain".
He was taken to hospital with muscle damage to his leg. Six boys, aged between 12 and 15, have been arrested.
Two boys, aged 12 and 13, were arrested on suspicion of causing grievous bodily harm and bailed pending further inquiries.
A further four boys, a 13-year-old, two 14-year-olds and a 15-year-old were later arrested on suspicion of causing grievous bodily harm and remain in police custody for questioning.
'Disgusting attack'
Mr O'Donnell, a retired head teacher, said: "I just collapsed immediately, and the little thugs just ran off.
"As I approached them, there was this one boy who was standing there with a broken flagstone in his hand, facing the car, looking as though he was going to throw it through the windscreen.
"And then he saw me, I didn't speak to anybody, and he threw it at me, hitting me on my leg.
"I was in intense pain."
Det Con Anna Meakin, from Greater Manchester Police, said the people responsible for the attack were "no genuine trick or treaters".
She said Mr O'Donnell's injuries could have been a lot worse after the incident, which took place at 20:40 GMT.
"This was a frankly disgusting double attack on a pensioner at his own home," she said.
"They pelted his house with eggs, all but forcing him into a confrontation, before launching a concrete block at him.
"The youths responsible have no right to torment an innocent man like this and we will not rest until we have found those responsible.
"We would urge anyone in the community who may have witnessed this attack, or who has information, to call us."