Armed robber jailed for Royal Mail van raid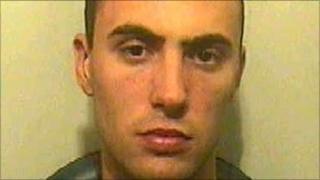 A man who took part in an armed robbery on a Royal Mail van in Lancashire and then fled the country has been jailed for more than 10 years.
Stephen Devalda, 28, from Salford, went on the run before being captured in Spain in March.
He was jailed at Preston Crown Court for nine years and eight months for conspiracy to commit robbery and seven months for breaching bail.
Devalda was first charged with robbery in 2006, but failed to attend court.
An appeal was made on BBC One's Crimewatch programme for information to track him down.
During the robbery in Colne two men on a motorcycle, who were armed with a handgun, machete and baseball bat, attacked a Royal Mail worker before escaping with a substantial amount of cash.
Det Insp Simon Cheyte, from Lancashire Police, said: "This was a pre planned and violent attack which has left the security guard so traumatised and distressed that he has not been able to return to his normal work duties.
"I am pleased with the sentence and hope it sends a clear message that this type of offence will not be tolerated."
A second man from Salford, Andrew Moran, 25, who was charged with conspiracy to rob, absconded from court during his trial.
After a six week trial Moran was appearing at Burnley Crown Court on 9 March 2009 and was being remanded into custody while the jury deliberated on their verdict.
He assaulted a member of the security staff, vaulted over the dock and ran from the court building.
The jury later returned a guilty verdict and he was convicted in his absence. He is yet to be sentenced.
Moran has been named as one of Britain's most wanted criminals as part of a national Crimestoppers appeal.
Det Insp Simon Cheyte said: "We are determined to get Moran back before the courts to serve the time for his crime and I would urge anyone with any information as to his whereabouts to come forward and contact the police."