Bolton pupil sex text teacher Katheryn Roach sentenced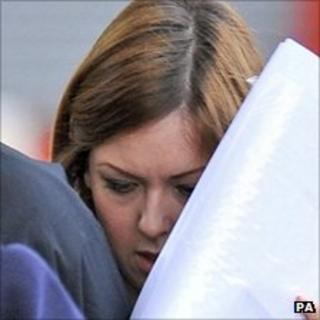 A religious education teacher who sent sexual text messages to a pupil blamed the break-up of an affair for her actions, Bolton Crown court has heard.
Katheryn Roach, 24, who was a teacher at Thornleigh Salesian College, in Bolton, admitted inciting a child to engage in sexual behaviour.
Roach, of Park View Road, Croxteth, Liverpool, received a six-month suspended sentence.
The judge described her as "selfish and hypocritical".
Roach told the court that the break-up of her affair with another man, just as she was getting engaged to her fiance, was the reason why she sent 205 texts to the boy between March and April 2011.
She had been a newly-qualified teacher at the Roman Catholic high school in Astley Bridge when she committed the offences.
'Strongly religious'
Roach wept throughout the hearing, which was attended by her parents and her husband, who she married in August.
Passing sentence, Judge Steven Everett told her: "What is very clear, unfortunately, at that particular time, you can only be regarded as a selfish and hypocritical individual.
"On the one hand professing to be strongly religious, based on your Catholic faith, and actually a teacher, teaching religious education to children.
"On the other hand, somebody who has had a long-standing relationship with a man who has stood by you, was about to be engaged to you, since married you, whilst you were having an affair with somebody else behind his back, and so, by what I read in the pre-sentence report, you found breaking up with that person so stressful you allowed that in some way to affect you in your behaviour with this young boy.
"Well how selfish is that?" asked the judge.
Roach, whose sentence was suspended for two years, has been sacked from her post by Bolton Council.
She was also given a two-year supervision order and ordered to sign the sex offenders register, on which she will remain for seven years.