Coroner doubts over death at Arran Coghlan mansion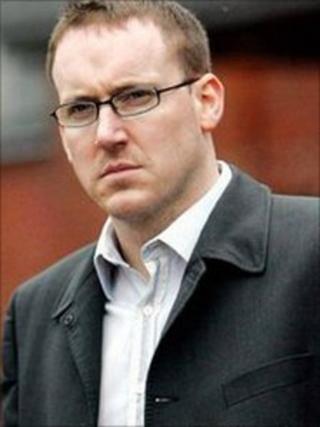 A coroner has expressed doubts at a businessman's version of events over the fatal shooting of a man at his Cheshire home.
Arran Coghlan, 39, hit back at coroner Nicholas Rheinberg's remarks at Stephen Akinyemi's inquest and threatened legal action against the police.
Mr Akinyemi died during a fight at the mansion in February 2010. Mr Coghlan was charged with murder but cleared.
Mr Rheinberg recorded an open verdict at Warrington Coroner's Court.
Mr Coghlan, of Alderley Edge, has been cleared of three separate murders.
During the hearing, the coroner said to Mr Coghlan: "You managed to successfully defend yourself while completely unarmed against a man with a gun and ultimately wielding a knife.
"The circumstances ultimately transpired with the stronger man [Akinyemi] being shot three times. That gives me difficulty."
Mr Coghlan, who gave his occupation as a "consultant", replied: "So you think I should have died in the process? Would that have pleased you? What else could I have done? What else should I have done?"
The coroner responded: "I think if you were looking at this from outside, you would be surprised at your surviving, if your account is correct."
'Acting as mediator'
Mr Akinyemi was allegedly part of a Manchester drugs gang and members of Mr Coghlan's family were taken into protective custody after Mr Akinyemi's death.
Mr Coghlan said Mr Akinyemi had been at his home because he was trying to mediate in a dispute between him and another friend who also had the nickname Aki.
Mr Akinyemi called him to a toilet on the first floor of his house. When he opened the door he was pointing a gun at him, Mr Coghlan said.
A struggle followed which Mr Coghlan described as "bedlam", during which he was stabbed. The gun then went off.
Mr Akinyemi, who was wearing a stab vest, was shot twice in his body armour and once, fatally, in the head. A fourth shot was also discharged which was recovered from the wall.
'Malicious intent'
Asked by the coroner why, when faced with an armed man, he did not flee, Mr Coghlan said: "I thought I could reason with him. When I saw the gun it almost didn't register. It was a shocking moment."
Mr Coghlan told the hearing police had "intel" that Akinyemi was coming to his house with "malicious intent".
He said police could have arrested Akinyemi two weeks earlier for another offence but decided to let him go free "because they wanted to see what would happen at my house".
Howard Young, for Mr Coghlan, urged the coroner to record a verdict of "lawful killing by reason of self-defence".
Mr Rheinberg said: "What happened in Mr Coghlan's house is known now only to Mr Coghlan. There's no independent way of verifying the sequence of events as they occurred.
"Mr Coghlan, that's not to say that you are not telling the truth. You may have been telling the truth and you may not."
'Unacceptable verdict'
Speaking after the hearing, Mr Coghlan said the coroner had "arrived at a neutral verdict to save the blushes of the police".
He said he was launching "civil proceedings" against the police and called the verdict "unacceptable".
A spokesman for Greater Manchester Police said they had noted the verdict of the inquest and that they "do not comment on specific intelligence".
In 1996, Mr Coghlan was cleared of murdering Chris Little, who was shot dead at the wheel of his Mercedes in 1994.
And in 2001, David Barnshaw, 32, was kidnapped, forced to drink petrol and burned alive in the back of a car.
Mr Coghlan was acquitted of leading the gang which tortured and killed Mr Barnshaw when it emerged police had failed to pass on information about another possible suspect.
Last June, he was cleared of a major drugs conspiracy. He had been accused of leading a multimillion-pound smuggling ring but then prosecutors offered no evidence against him.