Coronation Street dog owner leads Schmeichel to bow out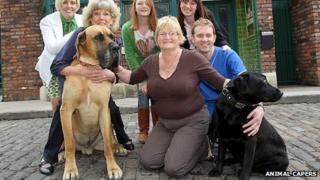 In mid-November, the television series Coronation Street will say farewell to one of its biggest characters - Schmeichel the Great Dane.
For seven years, the huge dog has been a constant companion to Chesney Battersby-Brown and has become a favourite with the soap's fans.
His on-screen death will mean a change in routine for the dog which has played the role and his owner, Anne Lunt.
Mrs Lunt has supplied Schmeichel since he first appeared on the Street - although, as she says, while the character has always been the same, the dog playing him has not.
"There have been four Schmeichels," she said.
"The first one was called Schmeichel and then Magnum came in when he was poorly.
"Then there was Spike, who took over when Magnum died - he was very old when he came in.
"But unfortunately Spike took a turn for the worse so we brought in his grandson, who has done all the acting since and is also called Schmeichel."
Mrs Lunt, who also owns Ken and Deirdre Barlow's border terrier Eccles and Maria Connor's Labrador Ozzy, said that, unlike the human actors, it was easier to have the animals called the same thing off-set as they were on.
"You can't call them something else, because otherwise, they just look elsewhere when you call them and it looks a bit silly," she said.
Unusual situations
Mrs Lunt and her husband's company Animal Capers have been supplying animals for TV and film production from their kennels for a number of years, beginning with the dog in the ITV production of The Hound of the Baskervilles in 1988.
Understandably, she said, it is not just a case of dropping the animals off on set and leaving them to it.
Having Schmeichel in Coronation Street, in particular, has led her to some unusual situations.
"When Schmeichel did the run-over (in 2005), I had to go under the bus to hold him, just so that he knew I was there," she said.
"He was laid at the side of the bus, but I was right underneath it, holding his collar and stroking him.
"Nobody saw that, of course, as I was out of view of the camera."
Stubborn or clever?
Mrs Lunt said she could not disagree more with the old adage that in television, it was not a good idea to work with animals, but she admitted there were times when the four Schmeichels have not followed their scripts.
"Great Danes will do so many things but then all of a sudden it's 'no, I'm not doing that'," she said.
"We don't know whether it's that they're stubborn or they're clever.
"Labradors like Ozzy and border terriers like Eccles are good workers, but they like working.
"Danes don't like working - though I must admit I got the best out of the Schmeichels."
In fact, to ensure the dogs do as they are required in the more stressful scenes, Mrs Lunt's daughter has been pressed into service in on-screen roles, including one as his nurse after the bus accident.
Hard worker or not, Mrs Lunt said she had liked having Schmeichel in the show and would continue to enjoy her time on the Street with the other dogs.
After all, she said, it was not the most difficult of jobs for either her or the animals.
"They don't really work that hard," she said.
"You can do a good couple of hours' hard work or it could just be a walk down the street.
"It's easy - I take the good with the bad."