Sam Schmidt and IndyCar beckon for Cheshire's Oli Webb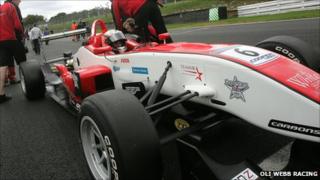 Cheshire's Oli Webb is well aware of the dangers of competitive motorsport.
Not only has he driven at increasingly higher levels for the past decade, but the 20-year-old was trackside in Las Vegas when British driver Dan Wheldon lost his life in a 15-car IndyCar pile-up.
In fact, he had not long finished racing on the same track himself when the accident happened.
But that experience, tragic as it was, has not stopped the 20-year-old returning to America to sign with Sam Schmidt Motorsports, the same team Wheldon drove for.
Not that he is about to forget the horror of the day though.
"It was a bit of a freak accident," he said.
"I was there with Sam (Schmidt, the team owner) and Dan before he got in the car, as I was in Vegas racing in the Indy Lights series.
"It was quite an upsetting weekend but we've got to understand that that happens in this sport and in others.
"When I get in the car, as soon as I put that right pedal down, I stop thinking about that sort of thing."
'America's version of F1'
Starting with karting when he was 10, which he said was "fairly old compared to some people - Lewis Hamilton started at six", he has spent a decade racing cars.
Most recently, he took third in the British Formula 3 International Series, a level of racing just below the main undercard event of Formula One, GP2.
Despite offers from Formula One though, Oli has decided to move across the Atlantic and join IndyCar.
He said that while there were differences between the disciplines, they are basically the same sport.
"IndyCar is America's version of F1," he said.
"For me, it's just always been about the speed and I want to be at the top of what I do, whether F1 or IndyCar."
He said he chose IndyCar because he took to it so well, though he may not initially be involved at the top.
"I'm either going into Indy Car straight away or taking a year of Indy Lights to gain funding and experience," he said.
"Indy Lights is the feeder series, doing 210mph round the naval, rather than 240mph.
"But the first time I ever got into the car - in Canada and without any testing - I got third, so I'm pretty confident."
Gaining experience
He will need that confidence.
The issue of rookies, new drivers with little or no experience, has been cited as a reason for the danger in IndyCar by many, including Nigel Mansell, who Oli studied under and who raced in both versions himself.
Oli would be one of those rookies and at 20, he would also be the youngest driver in IndyCar.
He said that was exactly why the team was considering the season in Indy Lights.
"You need to get experience because you can get a career out there very quickly," he said.
"Going into Indy Lights may help eliminate those little mistakes that happen at that kind of speed and cause problems.
"It is a very dangerous sport, obviously, but ability does not come until you've had the practice."
Young or not, Oli Webb is determined to rise above the dangers of motorsport and put himself in the driving seat.