NBA star John Amaechi awarded OBE at Buckingham Palace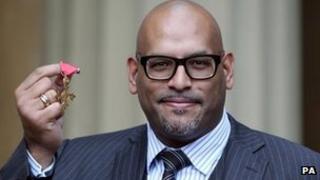 Britain's first NBA basketball star John Amaechi has been awarded the OBE by the Prince of Wales.
Amaechi, 40, from Stockport, Greater Manchester, was honoured for services to sport and the voluntary sector at the ceremony at Buckingham Palace.
The 6ft 10in tall (2.1m) star became the first openly gay NBA player after coming out in 2007.
Speaking after the ceremony, he said anti-gay sentiment in sporting institutions was a "massive problem".
He said: "I think people approach bigotry like there's a hierarchy.
"Homophobia has always been to the bottom of that ladder.
"In sport there are institutions that haven't changed in 100 years and need to."
Singling out the Football Association (FA), he accused it of an abject failure to do enough to tackle the issue.
"If you compare their emphasis on racism to what they've done on homophobia it's an embarrassment," he said.
He praised as "remarkable and very grown up" the response of the England and Wales Cricket Board (ECB) to England wicketkeeper Steven Davies's decision to come out, he added that "there's still a lot of work to do".
The FA and ECB defended their records on tackling homophobia in football and cricket respectively.
An FA spokesman said: "The FA hosts a regular working group around tackling homophobia and works alongside key stakeholders such as Stonewall and Kick It Out in making football accessible to all.
"We have signed up for the Stonewall Diversity Champions programme and will be delivering an action plan on inclusion of LGBT [lesbian, gay, bisexual and transgender] people, which will be launched next year.
"The FA is also one of the founding signatories on the Government's Charter for Action which aims to keep homophobia and transphobic abuse out of the game."
Basketball scholarship
An ECB spokeswoman said: "The ECB is working with partners in cricket to implement equal opportunity principles across cricket in England and Wales and is also a signatory to the government's Charter for Action tackling Homophobia and Transphobia in Sport."
Amaechi, a former England centre, was born in Boston in the United States and raised in Stockport, before moving to Ohio as a teenager and getting a basketball scholarship at Penn State University.
He went on to spend four years playing in the NBA, the top basketball league in the world, with Orlando Magic, Utah Jazz and Houston Rockets.
He retired in January 2004 but returned to help England win the bronze medal in the 2006 Commonwealth Games in Melbourne.
He now runs a motivational speaking business from Manchester and founded the Amaechi Basketball Centre at the city's Whalley Range High School for Girls.