Manchester Lord Mayor's charity takes We Love MCR name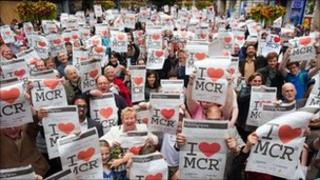 The Lord Mayor of Manchester's charity has rebranded itself as We Love MCR, a motif of civic pride made popular in the aftermath of the August riots.
The Charity Appeal Trust, which provides grants to local organisations, has adopted the new name to emphasise its place as a "peoples charity".
Lord Mayor of Manchester Harry Lyons said the charity was "a great way that Mancunians can help each other".
The motif was initially used by volunteers clearing up after the riot.
The Lord Mayor of Manchester's Charity Appeal Trust was formed to help fund charitable causes for the general benefit of the city's population.
The decision to rebrand it as We Love MCR has come alongside an effort to allow residents of the city to have a greater say over how the funds are allocated.
Chris Bird, the chair of the charity's fundraising committee, said: "We can now make a real difference in the city we all love."
The I Love MCR and We Love MCR motifs were first used by volunteers who turned up the morning after the riot in Manchester city centre on Tuesday 9 August to help clean the streets.
It has since become a symbol of positivity in the city and been used by the council to promote civic pride, culminating in a We Love MCR day on 26 August.